Wahe Guru Ji ka Khalsa, Wahe Guru Ji ki Fateh!
I would like to extend a huge "thank you" to all Ministers who responded to our recent Sikh Dharma Minister Enrichment Survey. The average response rate to many surveys is often very small. Of the total number of recipients of our Minister survey, we had over 100 responses (representing over 30% of our Active Minister base). That is terrific! It is very helpful information. Also, for those of you who offered additional comments, your input enhanced our interpretation of the results. I am very grateful to all who participated.
Our Ministry is now 45 years old. As we move forward our needs change. The following survey results may give you some indication of the current needs for the majority of our Ministers. A further survey on the topic of Minister Training for new and potential Ministers will be shared at a later time.
Survey Results
Our survey posed questions about potential topics for Minister Enrichment, including online courses, webinars, resource tools, or trainings during Khalsa Council, Solstice Minister Gatherings and the European Yoga Festival. We asked Ministers to rate the topics listed according to their interest.
Of the topics for the Minister Enrichment Survey, there was a tie between "Addressing the Relationship between Sikh Dharma and Kundalini Yoga" and "Handling Trauma, Grief and Disaster"—with 66.67% of respondents being very interested.
There was also a tie between "Dharmic Ceremonies and Practices" and "Learning Sikh History" with 57.29% very interested. The difference in the results for these two topics is in the percentages of somewhat interested and not interested. For "Dharmic Ceremonies and Practices" 27.08% were somewhat interested and 15.63% were not interested. For "Learning Sikh History", 34.38% were somewhat interested and 8.33% were not interested.
The topic "Death and Dying" scored 69.79% very interested, 26.04% somewhat interested, and 4.17% not interested. Yes, we have an aging population that also reflects what is happening in our society. The second and third generations in our Dharma represent a smaller group than the baby boomers. At the same time we do want to speak to their concerns, and have more participation by these groups.
On the topic "Leadership Development" 56.25% were very interested; on "Ministerial Peer Counseling" 50% were very interested; and on "Effective Communication" 47.92% were very interested. On "Interfaith Service" 44.79% were very interested, and an additional 41.67% were somewhat interested.
Your Voice Counts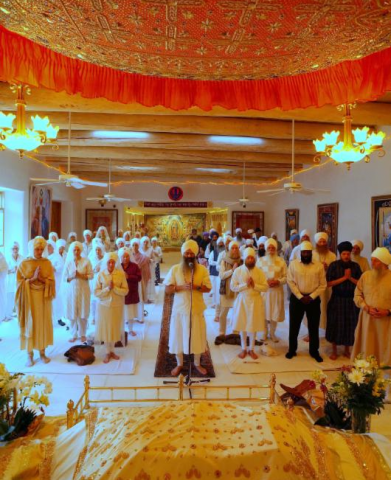 As you can see, this information is invaluable. It will help in the development of courses, webinars, trainings and resources in these areas for Ministers. I will also give this information to the Executive Committee of the Khalsa Council to help guide the topics for the educational enrichment segment of the Khalsa Council meetings. The data will also be shared with the SDI Dharmic Education Team for their purposes in the development of programs for Ministers.
Clearly, your voice counts. Thank you for responding and helping to shape the immediate future of our Minister Enrichment programs and trainings.
Minister Enrichment Survey Results (PDF)
Humbly,
SS Dr. Sat-Kaur Khalsa
Secretary of Religion
THE SECRETARY OF RELIGION
SS Dr. Sat Kaur Khalsa has served as Secretary of Religion since 1991 and was ordained as a Sikh Dharma Minister in 1975. As Secretary of Religion, Dr. Sat Kaur oversees and is ultimately responsible for the delivery of the functions of this Office. Dr. Sat Kaur is a long-time member of the International Khalsa Council and the Khalsa Council Executive Committee. She maintains a full-time psychotherapy private practice in Santa Monica, California and Santa Fe, New Mexico, counseling individuals, couples, and families to support their personal and spiritual growth. She is a certified Kundalini Yoga teacher, a facilitator of White Tantric Yoga®, and a published author.