by SS Karta Purkh Singh Khalsa, Kansas City  MO
Summer 2012
Guru Arjan was a leader, a teacher and an example to his followers of an authentic holy man. He showed them, by his intellectual prowess and later martyrdom, that faith can be found in many places, people and ways of worshipping. He honored the work of Guru Nanak, who traveled to many places in India as well as China and the Middle East.
The Holy Scripture of the Sikhs that begins with Nanak's JapJi is housed in the Gurdwara at Sat Tirath Ashram and is at the center of all Sikh religious services no matter where the Gurdwara happens to be located.
The continuous reading, the Siri Akhand Path, is considered very special and a Sikh holds it as both a privilege and a duty to participate. It is often held on a special occasion, such as a wedding, a death in the family, or a special holiday.
Siri Akhand Path in Missouri
On this Thanksgiving weekend we held the Siri Akhand Path in gratitude, that after a number of years we could bless our house, Sat Tirath Ashram, and the dawning of the Aquarian Age in this special way. Sat Tirath Ashram would be a place like the sacred shrines in India and Gurdwaras worldwide, in which the Guru's words would ring continuously over 72 hours.
All that is required is the commitment of a number of people willing to maintain the uninterrupted reading; willing to support each other in various ways, including staying awake and alert through the night while a relay of readers engage in the reading.
We here at Sat Tirath Ashram are blessed in that we have a number of people who are committed to the Sikh way of life (as well as to the science of Kundalini Yoga) and for them this was an opportunity to serve God, Guru and each other.
Everything did go well. One resident, a young Indian Sikh man was the bulwark of our reading team. Any time there was a gap, or the danger of someone getting sleepy, he jumped in without hesitation. He slept outside the Gurdwara door every night of the Akhand path, ever ready to do what needed to be done.
Students from our Teacher Training Class also took turns behind the Siri Guru Granth Sahib, reading it for the first time. All reported incredibly uplifting experiences, some gaining new insight into their lives and others reaffirming changes they knew they had to make. We all basked in the glow of the Guru's words.
Personally, each time I read I had my particular difficulties sitting comfortably, bending over the beloved pages, repeating the words sometimes in Gurmukhi but mostly in the English translation. These words of Nanak, and the words of Kabir and Ravi Das among others, turned my mind inward towards meditation but also outwards toward the universality that the Siri Guru Granth Sahib speaks of constantly.
Attitude of Gratitude
Each time I read, I found that somewhere towards the end of my assigned hour I would get impatient for the next reader. My anxiety would increase, as the pages seemingly crawled past at a snail's pace. My physical being wanted to escape this difficult task. When the next reader did arrive, I found myself almost resentful and unwilling to give up my place!
But of course I did, stepping out from behind the sacred text, turning towards the Guru, pressing my forehead to the cool floor, I felt overwhelmed with gratitude that my Guru had allowed me those precious minutes. I was almost immediately rested, refreshed and eagerly awaiting my next turn.
And so those 72 hours passed quickly, teaching, reading, prepping Guru's Prasad, sleeping just a little and, admittedly, doing something other than my usual Aquarian Sadhana in the Amrit Vela, as Yogi Bhajan taught us. If this was not THE Aquarian Sadhana it was most assuredly AN Aquarian Sadhana!
I felt like a new person, renewed through the Guru, as if I were just discovering this original way of dealing with my pain and my joy, my depression and elation, my challenges and my inspiration, all the product of the Siri Guru Granth Sahib.
I finally realized that reading from the Siri Guru Granth Sahib would make almost any hour or hours the Amrit Vela. The precious 4 AM to 6:30 AM was also to be found at 5 PM or Noon or any time.
Now I was where I belonged; in truth I had never left it. I was home, behind the Guru, beneath my shawl, embraced by my Beloved, slowly moving my finger across the blessed pages, sometimes whispering the words, sometimes almost shouting them as if to inform all of Creation of the blessedness of all of creation. Wahe Guru!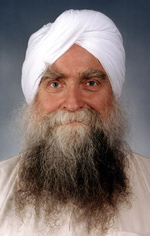 SS Karta Purkh Singh Khalsa is an ordained Sikh Dharma Minister. Director of the 3HO Kundalini Yoga Center of Missouri, Inc. since 1980, Karta Purkh was trained in Kundalini Yoga and Meditation by Yogi Bhajan and has taught Kundalini Yoga since 1976. Karta Purkh Singh is a certified Kundalini Yoga Teacher and a member of the International Kundalini Yoga Teachers Association and the Interfaith Council of Kansas City. He is a certified Kundalini Yoga Teacher Trainer for Levels I and II, an Adjunct Professor at UMKC, a published writer, and award-winning photographer.