by SS Shiva Singh Khalsa, Chicago, Illinois
2023 (Third Quarter)
The 2023 Parliament of the World's Religions was held August 14-18, 2023. This is the 4th Parliament we have attended. It is a week of presentations; plenaries by world-renowned faith and government luminaries; and most of all, amazing conversations with like-hearted people from every corner of the world.
This is the 130th anniversary of the first Parliament in 1893, when the West got its first taste of non-Abrahamic faiths, held at the McCormick Lakeside Center in Chicago, USA.
This week started with 1,000+ representatives of more than twenty diverse faith organizations in an Inaugural Parade of Faiths led by a Nagar Kirtan and Panj Piara with the Siri Guru Granth Sahib on a float. Ladies swept the ground in front of the Guru's float.
More than 7,000 attendees of 210 faith traditions from 95 countries filled the halls of the Lakeside Center, with hundreds of presenters and exhibitors who shared their unique contributions to the global interfaith movement.
Unforgettable is the blessing of Guru Ka Langar, served by hundreds of international and local Sikhs to 7,000 people daily. Interestingly, there was presented at the Langar a unique collection of coins reflecting the range of the Sikh history, including 20 coins from the time of Guru Nanak Dev Ji, representing the 20 coins his father gave him – with which he fed the sadhus. It was another amazing experience. That word, amazing, is pretty much what the time there was like.
Members of our Sikh Dharma sangat attended, including MSS Kirtan Singh Khalsa (SDI), SS Ek Ong Kar Kaur Khalsa-Michaud (Sikhnet), SS Simran Singh Stuelpnagel (OPA), Angus McGuiness and SS Kulbir Singh Puri.
It was the 30th anniversary of the Parliament's foundational document, "Towards A Global Ethic in the Parliament in 1993." The late Brother Wayne Teasdale, a dear friend, shared this story: At the Assembly of Religious Leaders they were all bickering, and Yogi Ji stood up and reminded them that millions were watching—which saved the Global Ethic.
Shabad Kaur and I were involved in three presentations:
Defending Women's Rights in the Contemporary World – A Faith Perspective
And, yes, an amazing interfaith panel of women who shared important tools for change.
Love of Creation: A Journey into Sikh Beliefs and History
Navraaz Kaur Basati, filmmaker, ragini, and environmental activist, and I shared with 40 people through story, history, Gurbani, and kirtan how Sikhi loves the creation and serves the One in All.
Interfaith, Healthcare, and Beyond: The Intersection of Faith and the Right to Equitable Healthcare
Shabad Kaur and I were on a panel of members of the Gift of Hope Interfaith Council, sharing our experiences and how faith can make a difference in healthcare.
Shabad Kaur and I had scores of valuable and wonderful conversations, many started by people asking us where the Langar was being held! It is nice to be recognized!
Other highlights:
~On the last day we hosted a woman activist filmmaker from Afghanistan, who needed a place to stay.
~The Birmingham, UK sangat, who organize the Langar at the Parliaments, generously invited us on stage with them when they performed Kirtan to 5,000 people.
~I was asked to come backstage to shake Rev. Jesse Jackson's hand.
~Shabad Kaur had her brush with greatness! Jean Shinoda Bolen – author of Goddesses in Every Woman!
~We spent time with the elegant and adept Angus McGuiness (Angad Singh) at the Parliament— a former classmate of our son Amar Dev's from MPA.
~Edwina Cowell and her Spiritual Playdate organization sponsored numerous groups for youth, including turban tying!  Although the attendance of youth was sadly minimal, it is time to plan for the next CPWR!
~One of Shabad Kaur's favorite workshops was one where musicians and activists Pato Banton and Antoinette Rootsdawtaw shared about the powerful work that they are doing for social justice.
~Many, many people had lifechanging experiences with 3HO and Sikh Dharma.
And it goes on and on. The Parliament of the World's Religions is a unique opportunity for us to share who we are, as well as meet and develop relationships with others who are committed to making change through faith.
I believe that it was—and is—really valuable that we have a Ministry. It has opened many doors for interfaith work over the decades, which would not have necessarily been available to us otherwise.
Across social media platforms, attendees are sharing their stories and experiences of the 2023 Parliament of the World's Religions with the hashtag #2023PoWR.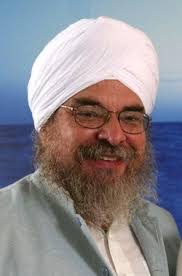 SS Shiva Singh Khalsa is a Sikh Dharma Minister recognized as a leader within the spiritual/interreligious community, as well as being an activist for HIV prevention and the rights of the aged and infirm. Since 1972, Shiva Singh has taught and lectured on yoga and meditation, serves as a KRI Mentoring Lead Trainer, and is co-director of Spirit Rising Yoga and President of Spirit Rising Foundation. He is also a member of Gift of Hope Interfaith Council and the City of Chicago Faith Communities Core Group. He lives in Chicago with his wife, Shabad Kaur Khalsa, MA, LCPC, LMFT, E-RYT500 in private practice, and their adult son.