by SS Shanti Kaur Khalsa, Espanola NM
Summer 2016

In the month of Vaisakh we celebrate the birth of the 9th Sikh Guru—Guru Teg Bahadur Sahib. His life is an epic story of bravery and fearlessness, devotion and meditation, and ultimately the sacrifice of his own life for freedom of religion.[1]  Guru Gobind Singh ji writes with loving respect about his holy father in his autobiographical Bichitra Naatak:
Guru Teg Bahadur became the protector of the sacred thread and the tilak;
He gave the highest sacrifice so that we remember forever;
He gave his head as an offering without the slightest hesitation.
He gave his life for freedom of religion;
He gave his head, but not his faith.
Falsehood and fakery were condemned,
The true devotees have always rejected deceitfulness and falsehood.[2]
Instructing the Disciples
The writings of Guru Teg Bahadur are deep and evocative. He instructs his disciples to purify themselves and live a life of dedication to the One God of love. After the martyrdom of Guru Teg Bahadur on November 24, 1675 at the hands of the Mughal Emperor in Delhi, his saintly son, Guru Gobind Singh, included the writings of his father in the Sikhs' holy scripture, the Siri Guru Granth Sahib.
The Sikh Reference Library in Amritsar held many historical relics prior to the destruction of the library in 1984. The earliest copy of the Siri Guru Granth Sahib, in which the writings of Guru Teg Bahadur appear was in 1682 (it is unknown if this Granth survived the pogrom of 1984). Guru Gobind Singh would have been 16 years old in 1682; so sometime prior to this date, the Guru commanded that his holy father's Bani be made a part of the holy Granth.[3]  Included in these writings are the Sloks of Guru Teg Bahadur.
The Sloks of Guru Teg Bahadur are 57 in number and are found at the end of the Siri Guru Granth Sahib before Guru Arjan Dev's Mundavani (seal). The Sloks, which begin with "Gun Gobind Gaaeo" are written with "bairaag," devotional piety and dispassion towards the world.
Happiness in Both Worlds
Kavi Santokh Singh tells us in the Gurupartap Suraj Granth, that Guru Teg Bahadur wrote these Sloks in the brutal confinement of Mughal prison while awaiting execution. When giving his writings over to a disciple in order for them to be conveyed to the outside world, the Guru said, "Who is so minded may absorb this teaching of mine, which shall bring to him happiness in both the worlds."[4]
Kavi Santokh goes on to say that Slok 53 was written directly to his beloved son, Guru Gobind Rai:
All strength is gone; the body is cast into bondage.
No effort may now avail.  Prays Nanak, in this extremity,
'Lord, you alone are my support.  Save me as you once did the Elephant.'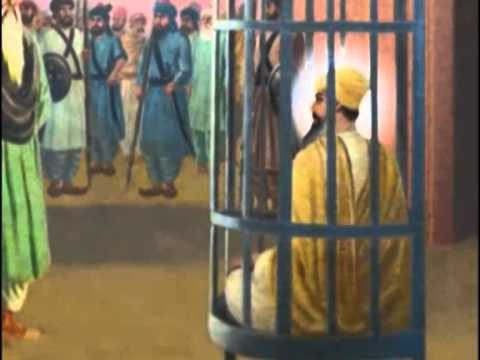 Although Guru Gobind Rai was just nine years old, he realized that his holy father was inciting strength and leadership in him, so he sent his reply as Slok 54, affirming his own eternal faith in the Divine to combat evil and unrighteousness. [5]
"Lo! Strength has arrived; the bonds are snapped asunder.
All efforts are successful!  Says Nanak,
'All is in your hand, Lord.  You ever support your devotees.'"
Words of Courage
The Sloks of Guru Teg Bahadur are the words of a courageous holy man in the face of oppression and tyranny. These deeply moving lines endure forever and "leave the human heart bathed in tears of emotion, which bring about enlightenment and awakening of the soul from the slumber of involvement with worldliness." [6]
Waheguru ji ka Khalsa! Waheguru ji ki Fateh!
[1] Of all the books written about Guru Teg Bahadur, none is better than Trilochen Singh's biography, Guru Tegh Bahadur.  Emotionally charged and immaculately annotated, it gets to the true heart of the story and brings history to life.  Originally published in 1967 by the Delhi Gurdwara Parbandak Committee, it is now out of print but available in a print-on-demand version.
[2] Guru Gobind Singh, Bichitra Naatak (1698), Paatshaahee Barnang 13 and 14.  The best translation I have found of this Bani of the 10th Guru is by Ujagar Singh Bawa (The Washington Sikh Center 1991).
[3] Fauja Singh and Gurbachan Singh Talib, Guru Tegh Bahadur – Martyr and Teacher (Punjabi University 1975), page 116.
[4] Kavi Santokh Singh, Gurupartap Suraj Granth (1843), Rasa XII.62
Kavi Santokh Singh is unambiguous about the attribution of the Sloks to the time Guru Teg Bahadur was imprisoned.  Written in the early 1800s, this historical rendition was only four or five generations away from the martyrdom of Guru Teg Bahadur.  So while not entirely confirmed as fact, the historical situation is likely.
[5] Ibid., Rasa XII 63
[6] Fauja Singh and Gurbachan Singh Talib, Guru Teg Bahadur – Martyr and Teacher (Punjabi University 1975), page 117.
SS Shanti Kaur Khalsa is a wife, mother, and Minister of Sikh Dharma.  She is an active Sikh sevadar in the United States and abroad.  Involvement with Sikh youth has led to mentoring young people around the world in the Sikh Rahit, both in their personal and professional lives. Shanti spent more than twenty years studying with Siri Singh Sahib Bhai Sahib Harbhajan Singh Khalsa Yogiji who inspired her on the path of Sikhism.  She is an active kirtani, and has traveled widely giving inspirational kirtan and lecture programs.  She hosts an on-line book shop for Sikh history book – www.sikhbookshelf.com.