"Once a person gives himself to the righteous path of divinity and decides to be a soldier for righteousness and a saint for humanity, that person has achieved God-like grace. It is a mental capacity. When you reach a state of consciousness where nobody can reach you, nobody can buy you, nobody can have you, then you are priceless."—The Siri Singh Sahib Bhai Sahib Harbhajan Singh Khalsa Yogiji (1975)
---
This year (2013) seems to have arrived incredibly quickly for me. Is that your experience too? In numerology, 2013 becomes the number 6. Tantric Numerologist Nam Hari Kaur Khalsa said in her Numerology Forecast for January 2013: Power to Manifest Peace: "Number 6 is the projective psyche, which is the ability to focus the forces of our mental, physical, and spiritual projection into a beam, or frequency of thought.
"Number 6 represents the Arc Line, or halo, and our ability to feel protected, contained, and conscious. A strong Arc Line gives you the ability to 'know the field' and read people's intentions correctly, as well as maneuver with ease in changing environments."
The qualities of the number 6 are embodied in our sixth Nanak, Guru Hargobind. He "turned saints into soldiers and yet remained a man of God. He felt that non-violence used out of helplessness or fear is cowardice" (Heroes, Saints and Yogis, 2012, p.116).
"After the martyrdom of his father Guru Arjan, [Guru Hargobind] trained his Sikhs to become warriors so that they could defend their rights and the rights of others to live and teach according to their faith" (p.113). By the way, if you haven't yet read this wonderful book by MSS Shakti Parwha Kaur Khalsa and SS Guruka Singh Khalsa you are missing a real treat!
In exploring the history, we found that Guru Hargobind brought more formal structure to the Dharma with the establishment of the Akal Takhat. At the age of 13, Guru Hargobind erected Sri Akal Takhat Sahib ten feet above the ground and adorned with two swords, Miri and Piri, representing temporal and spiritual power. The challenge, as the Siri Singh Sahib said, is to strike a balance between being and the action of the being.
Our Minister e-newsletter team took this information to map out our four issues for 2013.The four themes of our quarterly 2013 newsletters are: The Arc Line Body, the frequency of Guru Hargobind, Miri Piri and the Akal Takhat (February 2013); Integrity, living to our word (May 2013); Focus, person of prayer and concentration (August 2013); and Integration, destiny, delivery and transition using the strength of the sixth body (November 2013). We hope you find the articles and information helpful to you as we move forward in our Sikh Dharma Ministry.
Just a reminder: it is time to renew your Ministership for this calendar year, Baisakhi 2013 to Baisakhi 2014. Please be current so that you can always answer the call as a Minister of this Dharma.
2012 Winter Solstice Minister Gathering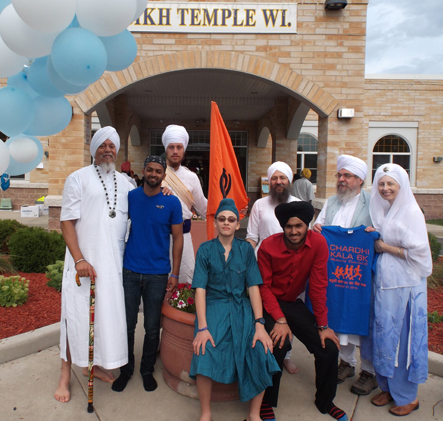 The Sikh Dharma Minister Gathering for Winter Solstice 2012 began with the recognition that the Ministry is an invaluable aspect of our Dharma.
The guiding philosophy of the contemporary Sikh Dharma Ministry is the understanding that each of us serves as a Minister in ways that are aligned with who we are and what we do every day.
We don't necessarily take on special or specific roles or duties. Rather, each of us brings our unique capacities and skills to minister in ways that match our work, our teaching, our outreach to the community in which we live.
The Minister Gathering at Winter Solstice 2012 was an opportunity to reflect on our maturity and integration as Ministers and to identify the qualities that have sustained the Sikh Dharma Ministry since the Siri Singh Sahib re-established it in the West in 1971.
The gathering was a time of reflection on specific questions and sharing. Perhaps you would like to take a pen and paper or sit at the keyboard and respond to these questions yourself.
Reflection Questions
1. What are those qualities, values, virtues, caliber that exemplify a Sikh Dharma Minister, including yourself as well as people you admire as a Minister?
2. How do you recognize these in someone?
3. What do you do to foster these qualities in yourself?
The Ministers present then shared their responses with each other and discussed key points. We closed with a dynamic group meditation to Express Your Real Self and Develop the Subtle Body with the intention to support our community of Ministers.
Humbly,
SS Dr. Sat-Kaur Khalsa, Secretary of Religion
ABOUT THE SECRETARY OF RELIGION
SS Dr. Sat Kaur Khalsa has served as Secretary of Religion since 1991 and was ordained as a Sikh Dharma Minister in 1975. As Secretary of Religion, Dr. Sat Kaur oversees and is ultimately responsible for the delivery of the functions of this Office. Dr. Sat Kaur is a long-time member of the International Khalsa Council and the Khalsa Council Executive Committee. Dr. Sat Kaur maintains a full-time psychotherapy private practice in Santa Monica, California and Santa Fe, New Mexico. She counsels individuals, couples, and families to support their personal and spiritual growth. She is a certified Kundalini Yoga teacher, facilitates White Tantric Yoga®, and is a published author.