by SS Shiva Singh Khalsa, Chicago IL
Winter 2012
---
The wind merges into the wind. The light blends into the light. The dust becomes one with the dust. What support is there for the one who is lamenting? Who has died? Oh, who has died? Meet together with the God-realized and inquire into this. What a wondrous thing has happened! No one knows what happens after death. The one who is lamenting will also arise and depart. Mortal beings are bound by the bonds of doubt and attachment.
When life becomes a dream, the blind man babbles and grieves in vain. The Creator Being created this creation. It comes and goes, subject to the Divine Will. No one dies; no one is capable of dying. The Soul does not perish; it is imperishable. That which is known, does not exist. I am a sacrifice to the one who knows this. Says Nanak, the Guru has dispelled my doubt. No one dies; no one comes or goes.—Ramkali, Fifth Guru (Siri Guru Granth Sahib pg. 885)
---
On Sunday morning, August 5th, 2012, sangat members were cooking langar at the Gurdwara in Oak Creek, Wisconsin. Tragically, a deranged man opened fire, killing six innocent people and wounding three others, including a heroic police officer.
The response from Sikhs and others worldwide to this tragedy has been inspiring. Prayer vigils took place all over North America with civic and interfaith leaders showing their support. My wife and I helped to organize vigils at Gurdwaras in Chicago and Wheaton, Illinois. On the way to attend the press conference in Oak Creek, I passed a huge American flag at half-mast and  at that moment, the enormity of the deaths hit me and I wept; tears streamed down my face.
My wife, Shabad Kaur, shared her experience of the memorial in Oak Creek in an article she wrote for YogaChicago magazine: "We attended the funeral for those killed six days before. It was such a beautiful and graceful event. I couldn't stop crying.
"The most poignant moment for me was when Prakash Singh's 11-year-old son didn't want to leave the side of his father's casket when the families were called up to speak.
"Prakash Singh had just brought his wife and children from India to join him six weeks previously after a seven-year separation! After the funeral we went to the Gurdwara which had been lovingly restored by the sangat (the congregation)."
Those Sikhs killed were people of humility and divine service, who had arrived early that day to do seva and they departed from their bodies in the Guru's Court. May we always remember them, and may all their souls ferry across the ethers to merge with the Divine.
Wahe Guru ji ka Khalsa Wahe Guru ji ki Fateh!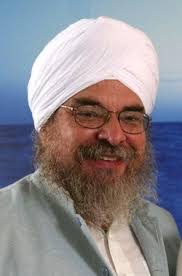 SS Shiva Singh Khalsa is an ordained Sikh Dharma Minister recognized for his community service in the Chicago area and global interfaith. He helped found the groundbreaking Rogers Park Inter-Religious Partners, a group of 20 faith traditions in the Chicago area working to increase the harmony, trust, and community in their neighborhood. He was a key organizer of Sikh participation in the 1993 Parliament of the World's Religions in Chicago and traveled with Yogi Bhajan in 1999 to the Parliament in South Africa. Shiva Singh is co-director of Spirit Rising Foundation, with his wife Shabad Kaur Khalsa, where they teach Kundalini yoga in the tradition of Yogi Bhajan®.