by SS Sat Hari Singh Khalsa, Hamburg, Germany
Fall 2013
Whenever the Siri Singh Sahib came to Hamburg in the 1990s he would ask me to accompany him to special antique stores to shop for old weapons. We always came home with some old kirpans and swords, which he handed over to me to restore for him. I did it with love, without questions. He was my master.
One day some years later, when I had the blessing to have breakfast with him, out of the blue he said: "What do you think, why a man of my caliber gives you all these swords?" I was stunned—I had never imagined that he had been doing it to teach me a lesson!
Guru Hargobind gave us Miri and Piri—responsibilities for spiritual life as well as for our worldly life. There is a time for tolerance, for overlooking the faults of others, and there is a time for standing up against unrighteousness. Many times in my life I have found it hard to align my actions to what is appropriate and needed in a certain situation.
During the past 10 years, Yogi Tea has been undergoing many changes. It was painful to watch our business losing the approach of a yogic business. That's why, four years ago, in addition to my work at Yogi Tea, I founded the Golden Temple TeaHouse in order to create a yogic business project on a local level. It is run by sangat members and it is a huge learning process for everyone to run a business collectively.
We have been busy creating a space for the sangat to meet and relax and for visitors to feel welcome and have the opportunity to get to know our way of life. We serve organic, vegetarian and vegan yogic food and we sell products that support a conscious and healthy lifestyle. We have different spiritual musicians, mostly from Hamburg, but sometimes from all over the world, playing live music on Saturday nights.
What is very beautiful, too, is seeing that through this project the Indian Sikh sangat and our German and International 3HO sangats are growing together more. So far we have created jobs for more than 13 sangat members. Golden Temple TeaHouse sales have grown from Euro 150.- / day to Euro 550.- / today.
In about one year from now we will evaluate our experiences and we are planning on sharing them with the larger sangat. By Guru's grace we might be in the process of creating a model for a collective Aquarian business. My prayer to God and Guru is that I may serve this purpose, finally using the sword wisely.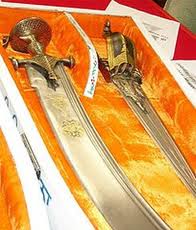 Jai Tegang
 (from Dasam Granth written by Guru Gobind Singh Ji)
Khag Khand Bihandang Khal Dal Khandang
At Ran Mandang Bar Bandang
Bhuj Dhandh Akhandang Tej Parchandang
Jot Amandang Bhan Prabhang
Sukh Santaa Karnang Durmat Darnang
Kilbikh Harnang As Sarnang
Jai Jai Jag Kaaran Srist Ubaaran
Mam Pratipaaran Jai Tegang
Translation: The sword breaks through and cuts down the demons of the mind and body.
This beautiful and powerful weapon adorns the battlefield of life.
It is as an extension of the arm, unbreakable, terribly fast, it's awesome splendor
overshadows even the sun. It protects the peace and happiness of the saints and destroys any powerful negative
energy. It has erased the negativity and guilt that I carry. I seek its refuge.
Praise, praise be to the great doer of the world, savior of the creation, my great
protector, praise be to the sword!
"This shabad is the total property of Guru Gobind Singh, given to us as a gift. This one shabad alone can keep you daringly alive and brilliant…It awakens the spirit….And if you find a person very feeble, who has no grit, no courage, no self-esteem…and you do the job of this shabad, the person will become totally tempered and can cut through any negativity….You sing this shabad and from a begging bowl of poverty, you shall have royalty, imperial dignity and your grace."—The Siri Singh Sahib Bhai Sahib Harbhajan Singh Khalsa Yogiji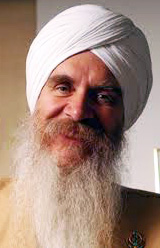 SS Sat Hari Singh Khalsa is an ordained Sikh Dharma Minister. one of the pioneers of 3HO Kundalini Yoga in Germany. As a member of the first 3HO ashram in Hamburg, he began studying Kundalini Yoga in 1980, and in 1986 he published the first German translation of the JapJi Sahib, the morning prayer, which is also the source for many mantras used in Kundalini Yoga. SS Sat Hari Singh is also one of the founders the Golden Temple Tea Company, the home of the famous Yogi Tea.