by SS Gurubachan Kaur Khalsa, Albuquerque NM
Spring 2010
As a Minister how do I recognize and deliver my natural gifts?
My daughter always tells me, "Mata Ji, you were born to be a mother. It just comes so naturally for you and you have no insecurity about it."
The first time she told me this, it took me by surprise because I never really gave any thought to being a mother and assumed that every woman had an inborn maternal instinct.
My daughter is right, God gave me this beautiful gift to be able to be a mother to all. Being a mother does come very effortlessly to me. I can comfort someone just as easily as I can reprimand them, with no second thought.
I do not always realize how I impact people's lives by just giving them a smile, a hug, a bowl of soup or a "lecture." It is not until someone tells me how I did something that helped them or changed their lives.
People tell me they love my hugs and my cooking and I know that it is just the "touch of a mother." People also tell me that I remind them of their mother. Funnily enough, sometimes they mean it in a positive way and sometimes negatively.
Well, what can I say? Either way, I am very grateful to God for giving me this natural gift in my life.
How do I overcome my fears and insecurities?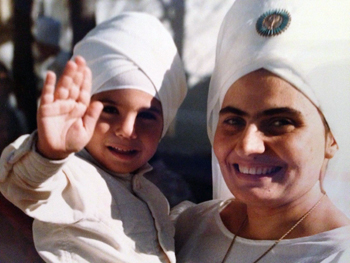 Now, having the natural gift of mothering also has its other side. As a mother, I had fears for my children. I worried so much about my children when Yogi Ji asked me to send them to India.
First, I was afraid of what would happen to them when they were away from me. Who would care for them as I do? Second, I worried that they would resent me later on as a mother for "letting them go" at such a young age.
It was through Yogi Bhajan's love, kindness, patience, and teachings that I was able to overcome my fears, doubts and insecurities. I learned through him that the most powerful prayer is that of a mother and that we have to trust God.
So, that is what I did, I prayed and prayed and prayed. And I am still praying today. I went to the Guru with my fears for my children and laid them at the Guru's feet.
Reading from the Guru has always helped me. Letting them go was the hardest thing I had to do in my life, but today I understand why I had to listen to my spiritual teacher and I am most grateful.
Being a mother is the most beautiful gift God has given me and letting go of them is the hardest thing you can do.
SS Gurubachan Kaur is an ordained Sikh Dharma Minister. She and her husband SS Gurubachan Singh served the Siri Singh Sahib for many years and travel around the world sharing about Guru Ram Das on the Lord of Miracles Tour. They are proud parents and grandparents.